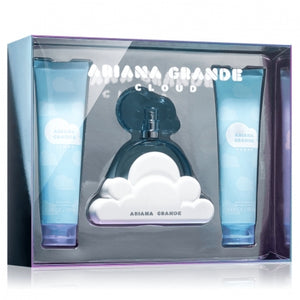 ARIANA GRANDE Gift Set 3 pcs 
What could be more inviting than feeling like you are on a cloud or at least holding one! Whether it's a gray day where you can stay at home and chill, or a day with bright blue skies with friends, the new Ariana Grande Cloud fragrance will make you feel inspired, cozy, and dreaming about what lies ahead.
FRAGRANCE NOTES
Top: Lavender blossom, Juicy pear, Bergamot
Middle: Creme de coconut, Indulgent praline, Vanilla orchid
Base: Sensual musks, Creamy Blond Woods
Set contains :
Eau De Perfume Spray 3.4 oz
Body Lotion 3.4 oz
Shower Gel 3.4 oz.