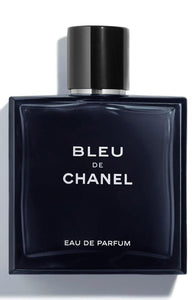 Bleu de Chanel Eau de Parfum 3.4oz , for men's , An unexpected and undeniably bold fragrance that is fresh, clean and profoundly sensual.
Fragrance story: This woody and aromatic fragrance reveals the spirit of a man who chooses his own destiny with independence and determination—a man who defies convention. It features a fresh citrus accord followed by ambery cedar notes. Woods are amplified by tonka bean and vanilla for heightened sensuality. New Caledonian sandalwood unfolds at the base for greater depth.
Style: Woody, aromatic.
Notes: Citrus accord, cedar notes, woods, tonka bean, vanilla, sandalwood.
Eau de Parfum 3.4oz , 100ml