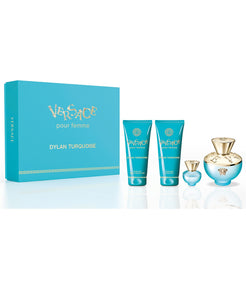 Vibrant and luminous, Versace Dylan Turquoise embodies tradition and innovation. Escaping toward faraway islands where the blue sky meets crystal waters. The sea breeze caresses the skin, waking up the senses and regenerating the soul. A fragrance reminiscent of warm sun and summer days. Dylan Turquoise is an ode to the sensuality of the Versace woman.
GIFT SET INCLUDES:
Eau de Toilette Spray, 3.4-oz.
Perfumed Body Gel, 3.4-oz.
Perfumed Bath & Shower Gel, 3.4-oz.
Eau de Toilette Miniature, 0.17-oz.