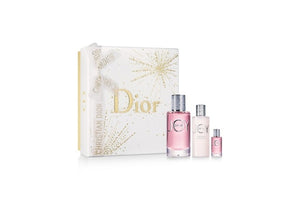 Joy Dior , the vibrant smile of flowers and citrus fruits, the smooth caress of wood and the serenity of musks, the fragrance is faceted with a thousand enveloping nuances that lead to a clean, simple expression.
"JOY by Dior expresses the remarkable feeling of joy through an interpretation of light. This perfume resembles certain pointillist paintings that are rich with a precise, yet not too obvious, technique. This perfume is constructed in a similar manner thanks to multiple nuances and myriad facets, which lead to a crystal-clear fragrance expression." —François Demachy, Dior in-house perfumer-creator
GIFT SET INCLUDES:
1) JOY by Dior Eau de Parfum Natural Spray 90 ml.
2) JOY by Dior Moisturizing Body Lotion 75 ml.
3) JOY by Dior Eau de Parfum Miniature 5 ml.