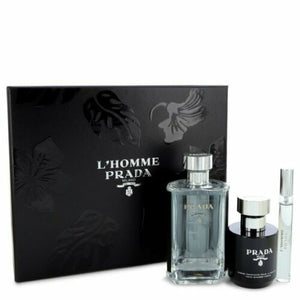 What it is: A modern amber, stitched with Prada's DNA.
Fragrance story: L'Homme Prada is a fragrance of pairs, of doubles, of juxtapositions and layers. It is constructed around the association of the two most emblematic ingredients of the House—iris and amber—united together for the first time in a Prada fragrance. L'Homme Prada is an unexpected take on a fougère, with classic ingredients of men's perfumery reinterpreted in a modern way: neroli, geranium and patchouli. A highly sensual and distinctive scent.
Notes:
- Top: iris, amber.
- Middle: neroli.
- Base: geranium, patchouli.
Description
Gift set includes 3 items:
Eau de Toilette Spray 3.4 fl. oz / 100 ml
Tonic Shower Cream, 3.4 fl. oz / 100 ml
Megaspritzer, 0.34 fl. oz / 10 ml