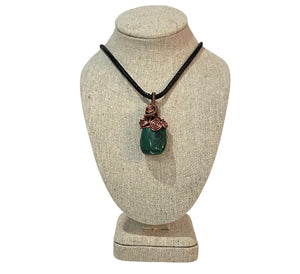 This beautiful Wrapped shaped genuine Malachite stone is simply wrapped inside several layers of copper wire. Liver of sulphur has been used to give the copper an antique look,  The necklace has been made adjustable black cord.

Malachite is the essence of joy and is known as the 
"stone of transformation"
 because it helps reveal and heal emotional pain by absorbing the pain into itself. It is especially helpful in bringing ease during times of change and gives the insight needed for personal growth.
Malachite Natural Stone 

Black Adujstable Cord